Samacheer Kalvi 9th Books PDF Download English and Tamil Medium:
Tamil Nadu Samacheer Kalvi 9th Books 2023 are uploaded and available online for Free Download PDF. Class 9th Text Books are the list out in the term wise (Term 1st, 2nd, 3rd) in English and Tamil Medium. Aspirants preparing for TNPSC exams can download and read those Samacheer Kalvi Books for relevant subjects. 9th Standard Samacheer Book available in PDF for Old and New Syllabus. 9th Book back Questions and Answers (Guide/ Solutions) link is available below.
TN Class 9th Std Tamil, English, Maths, Science and Social Science book 1st term, 2nd term, 3rd term wise available below within the table. Samacheer Kalvi 9th Science Book Solution Guide consists of Physics, Chemistry, and Biology combined in a single PDF. Samacheer Kalvi 9th Social Science part consists of History,  Geography, Civics, and Economy portions. Download Tamilnadu Class 9th standard all subject books 2019, 2018, 2021, and 2022 publication in English and Tamil Medium PDF.
Click Here to download the complete 9th Books PDF in English and Tamil Medium – 9th Books PDF Download
Samacheer Kalvi 6th to 12th Books PDF Download with Answers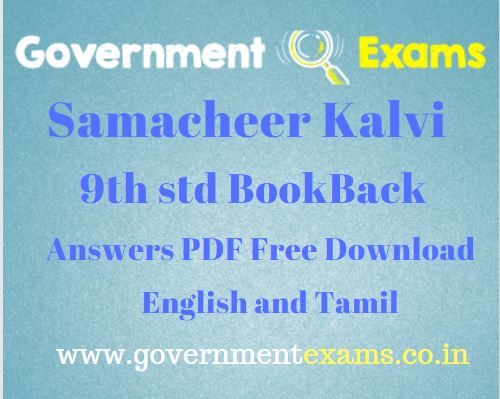 Samacheer Kalvi 9th Book PDF with Solution:
Samacheer Kalvi Book 9th standard book back 1 mark and 2 mark questions and answers uploaded and available below. Class 9 Term I, II, III book back questions and answers available for both English and Tamil mediums. English, Tamil, Maths, Science, and Social Science book back questions and answers available in PDF format. 9th Tamil book back answers and 9th English book back answers PDF free download. Check the Science(Term I, II, III), Social Science(Term I, II, III), and Maths solved questions below. See below for the 9th Book Back Questions and Answers Guide PDF.
9th Book Back Answers in English:
9th Book PDF Download with the book back question and Answers in English below,
Samacheer Kalvi 9th Book Back Answers English

Subjects

Download Now

Tamil
English
Maths

Samacheer Kalvi 9th Maths Book Back Answers

Science
Social Science




9th Book Back Answers in Tamil:
9th Book PDF Download with the book back question and Answers in Tamil below,
Other Important Links for Samacheer Kalvi Books PDF download with Answers:
Click here to download  the Samacheer Kalvi Books PDF with Answers – Samacheer Kalvi 6th to 12th Books PDF Download with Answers