Samacheer Kalvi 6th to 10th Book Back with Answers PDF Download:
Tamil Nadu Samacheer Kalvi Class 6th to 10th Books 2023 have been uploaded and are available for free download as PDFs online. Class 6th to 10th Standard, All Subjects, Books with Book Back Questions and Answers Guide PDF Download Samacheer Kalvi We have uploaded the PDFs of the 6th, 7th, 8th, 9th, and 10th Samacheer Kalvi Book Back Important Questions. For English and Tamil medium students, all Standard Book Back Problems with Solutions Guide PDFs are available.
Book Back Solutions Guide is available for classes 6th, 7th, 8th, 9th, and 10th standard in English, Tamil, Maths, Science, and Social Science. Check out the Samacheer Kalvi 6th – 10th Book Questions with Answers Guide PDF link below. Aspirants preparing for TNPSC exams can download and read relevant Samacheer Kalvi Books. 6th to 10th Standard: New Samacheer Kalvi Book is Now Available in PDF Format for Free Download in Support of the New Syllabus The link to the 6th-10th Book Back Questions and Answers (Guide/Solutions) is provided below. Download it and use it for upcoming exam purposes.
Tamil, English, Math, Science, and Social Science books for TN Class 6th to 10th Std. are available term-by-term below the table. Tamilnadu Class 6th to 12th Standard All Subject Books in English and Tamil Medium PDF with Answers Guide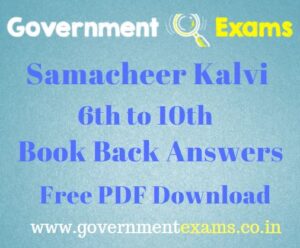 Samacheer Kalvi Class 6th to 10th book solutions PDF in English:
 6th to 10th Books PDF English Medium with Solutions Guide

Standard

Guide Download Now

Textbooks

6th Std Books
7th Std Books
8th Std Books
9th Std Books
10th Std Books
Other Important links for Samacheer Kalvi Books PDF Download:
Click here to download Samacheer kalvi Books PDF Download in English and Tamil Medium- Samacheer Kalvi Books PDF Download