TNUSRB SI Notification, Syllabus, Exam Pattern, and other important details 2023:
The Tamil Nadu Uniformed Services Recruitment Board (TNUSRB) was formed by the TN Government for the recruitment of Uniformed Services like Police, Prison, and Fire & Rescue Services. TN Police Department has announced new job vacancies for Sub-Inspectors of Police (Taluk, AR & TSP) on a regular basis. Candidates with a Bachelor's Degree check the vacancy and apply for the TN police SI job through the Official site https://www.tnusrb.tn.gov.in/. TNUSRB SI Syllabus and Exam Pattern PDF are provided on this page. The Sub Inspector Syllabus for departmental quota and open quota is uploaded and available in Tamil and English.
TNUSRB has given an employment notification for the recruitment of a Sub-Inspector(Taluk, Armed Reserve, and Tamil Nadu Special Police) on a regular basis. Interested candidates may check the vacancy details and apply online from 01-06-2023 till 30-06-2023 and also see TN Police Syllabus. Check below for TNUSRB SI New Syllabus 2023 available in English & Tamil.
Check the official TN Sub-Inspector notification 2023, click to see – TNUSRB TN Police SI Recruitment 2023
TN Police SI Syllabus and Exam Pattern 2023:
Selection is based on a Written Examination, Physical Measurement Test (PMT) & Endurance Test (ET), Interview, and Special Marks ((NCC/NSS/Sports).
Written Examination is of two-part: Part 1 – Tamil Language Eligibility Test and Part 2 – Main Written Examination (Part A & Part B given below)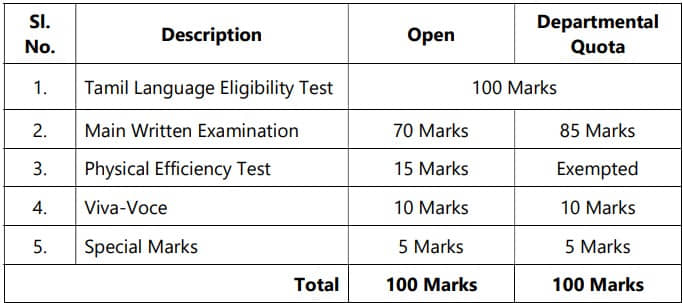 Check the complete TNUSRB SI Syllabus 2023 PDF given below both in Tamil and English.




TNUSRB SI Part II Question Pattern for Open Quota:
Minimum pass marks for Open Quota are 35% of 70 marks i.e. 25 marks and 140 questions each carrying half mark.
Subjects
Marks and Questions 
Duration
General Knowledge
40 Marks 80 Questions
2 hours 30 minutes
Logical Analysis, Numerical Analysis, Psychology Test, Communication Skills, Information Handling Ability
30 Marks 60 Questions
TOTAL
70 Marks 140 Questions
TNUSRB SI Part II Question Pattern for Departmental Quota:
The minimum pass mark for the Departmental Quota is 35% of 85 marks i.e. 30 marks. and 170 questions each carrying a half mark.
Subjects
Marks
Duration
General Knowledge
15 Marks 30 Questions
3 hours
Communication skills, Numerical skills, Logical Analysis, Information handling ability, IPC, CPC, Indian Evidence Act, Police Standing Orders, and Police Administration
70 Marks 140 Questions
TOTAL
85 Marks 170 Questions
To see the complete TN SI syllabus PDF for free download, Check the link –  TNUSRB SI Syllabus PDF
TNUSRB SI Syllabus 2023:
Part I: Tamil Language Eligibility Test (Common for Open and Departmental Quota Candidates)
The Tamil Language Eligibility Test will consist of objective-type questions of 1 mark each. In respect of 20% of Departmental candidates, the Tamil Language Eligibility Test will be commonly conducted along with those who are applying for the open quota. The candidates who have applied under both the Open and Departmental categories will have to write the commonly conducted Tamil Language Eligibility Test only once.
Syllabus for Paper I- Tamil eligibility test:
Objective-type questions will be asked to test the basic knowledge of the Tamil language as taught up to the 10th standard of the Tamil Nadu State Board. The syllabus is divided into three parts:




பகுதி – அ
இலக்கணம்
1. எழுத்து இலக்கணம்: தமிழ் எழுத்துகளின் வகையும் தொகையும், எழுத்துகளின் பிறப்பு, முதலெழுத்துகள் & வகை,சார்பெழுத்துகள் & வகை, புணர்ச்சி, மொழி முதல், இறுதி எழுத்துகள், இன எழுத்துகள், சுட்டு எழுத்துகள், வினா எழுத்துகள், மயங்கொலிகள்.
2. சொல் இலக்கணம்: பெயர்ச்சொல் & வகைகள், வினைச்சொல் & வகைகள், இடைச்சொல், உரிச்சொல், இலக்கியவகைச் சொற்கள், வேற்றுமை, ஆகுபெயர், இரட்டைக்கிளவி, அடுக்குத்தொடர், ஓரெழுத்து ஒருமொழி, பகுபதம், பகாப்பதம்,மூவகை மொழிகள், வழக்கு.
3. பொது இலக்கணம்: வழு, வழா நிலை, வழுவமைதி, தொகைநிலைத் தொடர், தொகாநிலைத் தொடர், வினா, விடை வகைகள், பொருள்கோள் & வகைகள்.
4. பொருள் இலக்கணம்: அகப்பொருள், புறப்பொருள்.
5. யாப்பு இலக்கணம்: யாப்பின் உறுப்புகள், அலகிடுதல், பா வகை (வெண்பா ,ஆசிரியப்பா பொது இலக்கணம்).
6. அணி இலக்கணம்: உவமை அணி, உருவக அணி, வஞ்சப்புகழ்ச்சி அணி, வேற்றுமை அணி, பின்வரு நிலையணி & வகைகள், பிறிது மொழிதல் அணி, இரட்டுறமொழிதல் அணி, தற்குறிப்பேற்ற அணி, தீவக அணி, நிரல்நிறை அணி.
7. மொழித்திறன்: வல்லினம் மிகும் இடம், மிகா இடம், தொடர் இலக்கணம்.
8. பிரித்து எழுதுதல், சேர்த்து எழுதுதல், எதிர்ச்சொல்லை எழுதுதல், பொருந்தாச்சொல்லை கண்டறிதல், பிழை திருத்தம், ஆங்கில சொல்லுக்கு நேரான தமிழ்ச் சொல்லை அறிதல்.
பகுதி – ஆ :
இலக்கியம்
1. திருக்குறள், தொல்காப்பியம், கம்பராமாயணம், எட்டுத்தொகை, பத்துப்பாட்டு,ஐம்பெருங்காப்பியங்கள், ஐஞ்சிறுகாப்பியங்கள், அறநூல்கள், பக்தி இலக்கியங்கள், சிற்றிலக்கியங்கள், நாட்டுப்புற இலக்கியங்கள், புதுக்கவிதை, மொழிபெயர்ப்பு நூல்கள் ஆகியவை தொடர்பான செய்திகள், மேற்கோள்கள், சிறப்புப்பெயர்கள், தொடரை நிரப்புதல்.
பகுதி – இ:
தமிழ் அறிஞர்களும் தமிழ்த்தொண்டும்
1. தமிழ் அறிஞர்கள், தமிழின் தொன்மை , தமிழரின் பண்பாடு, தமிழ் உரைநடை, தமிழ்த்தொண்டு, சமுதாயத்தொண்டு தொடர்பான செய்திகள் மற்றும் மேற்கோள்கள்.
Syllabus for Paper I- Tamil eligibility test:
Part A: General Knowledge – Both Open and Departmental Departmental. 
The Written Examination for Sub-Inspectors of Police selection will be of degree level with basic knowledge of Class XII of all the subjects as the datum. The syllabus includes the following topics.
1. General Science: Physics, Chemistry, and Biology viz. Inventions and Discoveries. Scientists and their contributions, Human Physiology, Diseases and their causes, cure and prevention, Diet and Nutrition, Genetics, Animals, Plants, Environment and Ecology, Elements and compounds, Acids, Bases and Salts and allied subjects, Motion, Properties of Matter, Light, Electricity and other related topics.
2. History: Dates and events of Indian History from Indus Valley Civilisation to present-day modern India. Important events of World history.
3. Geography: Regions of India, Monsoon and climate, Crops, Indian Towns and Places, Major Ports, Minerals, Industries, Power Plants, Forests and Wildlife, National Parks, Population distribution in India, and other related topics.
4. Economics: Agriculture in India, Industrial Development, Rural Development, Price policy, Inflation, Population and Un-employment problems, Imports and Export, 5-year planning, and related topics.
5. Indian Polity: Indian Constitution, Citizenship, Elections, Parliament and State legislatures, Executive, Judicial system, Local Self Governments, Centre-State Relationship, Foreign Policy, and other related topics.
6. General Knowledge & Current Affairs: Latest development in Science and Technology, Political developments in India, Arts & Culture of India and Tamil Nadu, Games and Sports, National and International awards, National and International organizations, Abbreviations, Who's Who, Books and Authors, India and its Neighbours, present-day India, and other related topics.
Part –B: Psychology Test (For Open and Departmental Candidates)
1. Logical Analysis: Analysis of any information logically to find out various dimensions of the information.
2. Numerical Analysis: Quick response with regard to numerical ability will be tested.
3. Communication Skills: Effective usage of Tamil & English languages will be tested.
4. Information Handling Ability: For any given information, the various aspects of the information, the inferences, and connected facts will be tested.
5. Mental Ability: These tests are meant to verify the candidate's capability to draw conclusions through, inductive or deductive reasoning.
In addition to the above, the Departmental Quota candidates will have questions on the following police subjects in Part B.
– Indian Penal Code (IPC), Criminal Procedure Code (CPC), Indian Evidence Act, Police Standing Order, and Police Administration. (only for Departmental Quota)
Important links for TN Police SI 2023: