NEET 2023 Preparation Tips:
The National Eligibility cum Entrance Test (NEET) is one of the most sought-after medical entrance exams in India. Conducted by the National Testing Agency (NTA), the NEET exam is the gateway to admission to various medical and dental courses offered by top medical colleges in India. With the NEET exam 2023 just around the corner, it is time for students to gear up for exam preparation. See below for Tips to Clear NEET Exam 2023: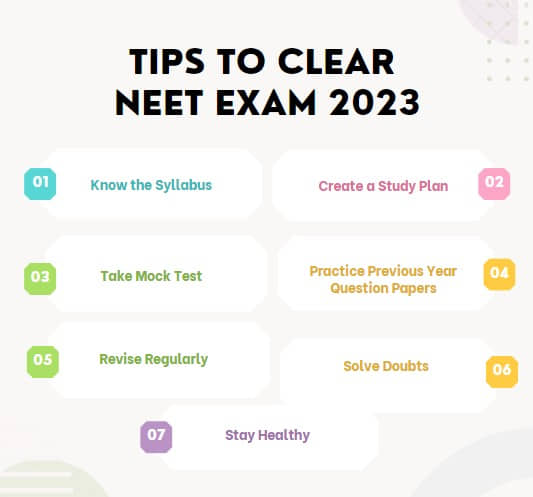 Clearing the NEET exam can be a challenging task, but with the right strategy and preparation, it is achievable. In this article, we will share some tips that can help you clear the NEET exam 2023.




Here are tips to follow for those who are preparing for NEET 2023:
Know the Syllabus: Before starting the preparation, it is important to know the NEET syllabus thoroughly. The NEET syllabus comprises of Physics, Chemistry, and Biology (Botany and Zoology). Understanding the syllabus will give you a clear idea of the topics that need to be covered and will help you prepare a study plan accordingly.
Create a Study Plan: After understanding the syllabus, it is important to create a study plan that includes a timetable for studying each topic. Make sure to allocate equal time to each subject and prioritize the topics that you find difficult.
Take Mock Tests: Taking mock tests is an essential part of NEET exam preparation. It helps you evaluate your preparation level and identifies your weak areas. Make sure to take regular mock tests and analyze your performance to improve your weak areas.
Practice Previous Year Question Papers: Practicing previous year question papers is an effective way to prepare for the NEET exam. It gives you an idea of the type of questions that can be asked in the exam and helps you manage time effectively.
Revise Regularly: Revision is key to retaining what you have learned. Make sure to revise each topic regularly to avoid forgetting it. Set aside a few hours every day for revision.
Solve Doubts: Don't hesitate to clear your doubts while studying. Make sure to solve all your doubts as soon as possible to avoid confusion during the exam.
Stay Healthy: Taking care of your health is crucial during exam preparation. Make sure to eat a balanced diet, get enough sleep, and exercise regularly to keep your mind and body healthy.
NEET Aspirants go through the NEET Syllabus to score better – NEET Syllabus 2023
In conclusion, the NEET exam 2023 is a crucial step towards a medical career. With proper planning, hard work, and dedication, you can clear the exam with flying colors. Remember to stay focused, stay motivated, and give your best effort.
Best of luck with the exam!