Samacheer Kalvi 10th English Book Back Answers PDF:
Samacheer Kalvi 10th standard new syllabus English Book Back 1 Mark and 2 Mark questions with answers solutions PDF uploaded and given below. Tamil Nadu State Board Syllabus 10th English Book Back portion consists of 7 units. Students of class 10th std can check the English solutions guide available online PDF and the same link given below. Unit-wise & whole-book back English solutions guide are given in PDF format for free download. Samacheer Kalvi 10th English guidebook back answers guide given below to see and download :
Click here to download the complete Samacheer Kalvi 10th Books PDF English and Tamil Medium – Samacheer Kalvi 10th Books PDF 
The following are unit-wise book-back question and answer guides for the 10th standard state board syllabus Tamil Nadu. The New 10th English Book Back Questions with Answer PDF can be found below.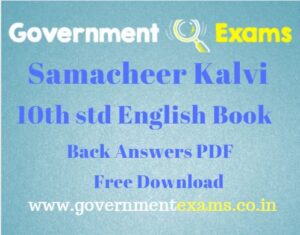 10th English Book Back Guide Solutions PDF:
Questions and answers for the 10th English Book Subject One Mark, Two Mark Guide questions answers are available below. Take the printout and use it for exam purposes. Check out the English Book Back Questions with Answers unit-wise below to test your knowledge of the subject.
Click here to download the 10th Book Back Answers Guide for all subjects – Samacheer Kalvi 10th Book Back Answers PDF
Unit No.
Unit Name
Download Link
1.
Prose – His First Flight

Poem – Life

Supplementary – The Tempest

For Complete Unit 1 Q & A PDF check the Link

Click Here
2.
Prose – The Night the Ghost Got in

Poem – The Grumble Family

Supplementary – Zigzag

For Complete Unit 2 Q & A PDF check the Link

Click Here
3.
Prose–Empowered Women Navigating The World

Poem – I am Every Woman

Supplementary – The Story of Mulan

For Complete Unit 3 Q & A PDF check the Link

Click Here
4.
Prose – The Attic

Poem – The Ant and the Cricket

Supplementary – The Aged Mother

For Complete Unit 4 Q & A PDF check the Link

Click Here
5.
Prose – Tech Bloomers

Poem – The Scert of the Machines

Supplementary – A day in 28889 of an American Journalist

For Complete Unit 5 Q & A PDF check the Link

Click Here
6.
Prose – The Last Lesson

Poem – No Men Are Foreign

Supplementary – The Little Hero of Holland

For Complete Unit 6 Q & A PDF check the Link

Click Here
7.
Prose – The Dying Detective

Poem – The House on Elm Street

Supplementary – A Dilemma

For Complete Unit 7 Q & A PDF check the Link

Click Here
Click here to download  the Samacheer Kalvi Books PDF with Answers – Samacheer Kalvi 6th to 12th Books PDF Download with Answers
Other Important Links for Samacheer Kalvi 10th Book Back Answers:
Click here to download the 10th Book Back Answers Guide for all subjects – Samacheer Kalvi 10th Std Book Back Answers
For Samacheer Kalvi 10th Tamil Book Back Answers PDF, check the link – 10th Tamil Book Back Answers